The Internet Platform
Our website development platform has everything needed for about 95% of our clients, while others require custom system development. Here are a few ways in which we can help better systemise your business:
The platform is packed full of features, everything needed to develop and manage your web solution.
We know all business are not the same, so our team developed a system that is easy to customise for each individual business.
Change and grow your website solution over time to meet demand.
The content output from the system is optimised for search engines to increase your ranking and bring more visitors to your website.
There is no need to know programming. This tool is as easy as filling in a form or using a word processor.
Add as many pages, products, services, courses, etc. as you like and not be limited by the number of orders you take for them.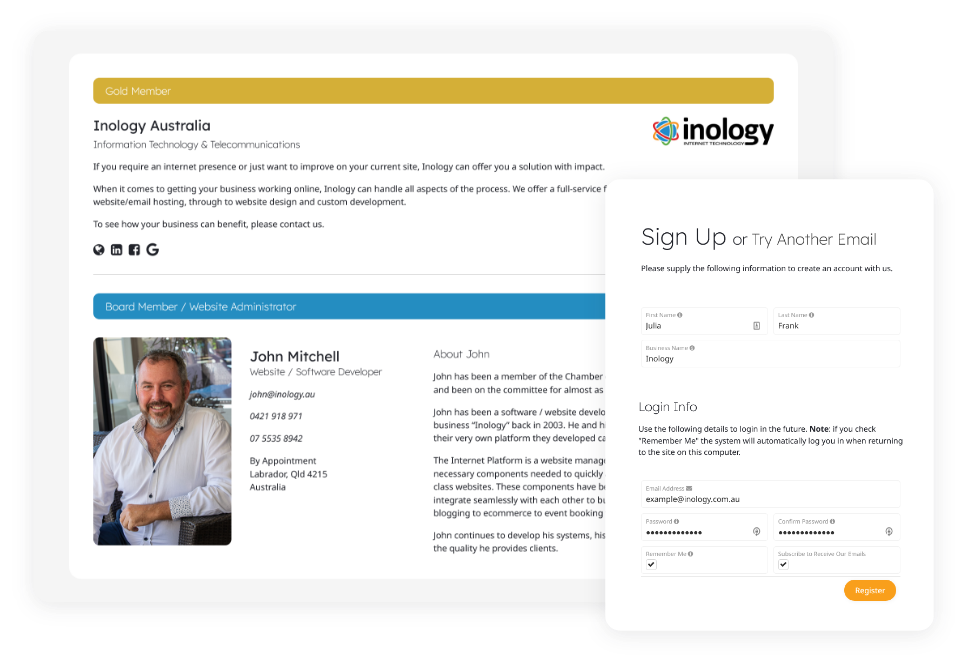 Membership management
Managing your online membership database has never been easier with our MMS. It provides all the necessary features, including multiple membership levels, subscription services, discounts to members based on their membership level, member-only content, directory and profile view, and much more.
Perfect for associations, clubs, chambers of commerce, interest groups and other membership organisations.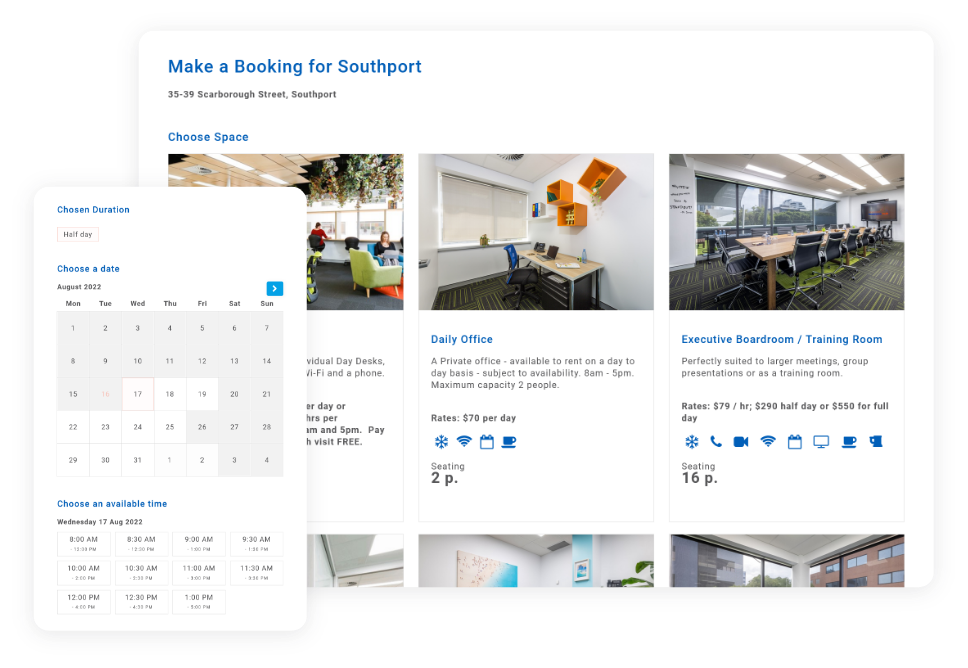 Service/event booking
If you want to rent your office space or equipment, hold events or classes, or simply take appointments, then look no further. Add our service booking system and start taking bookings.
Ideal for tour operators, event organisers, coworking spaces, serviced offices and more.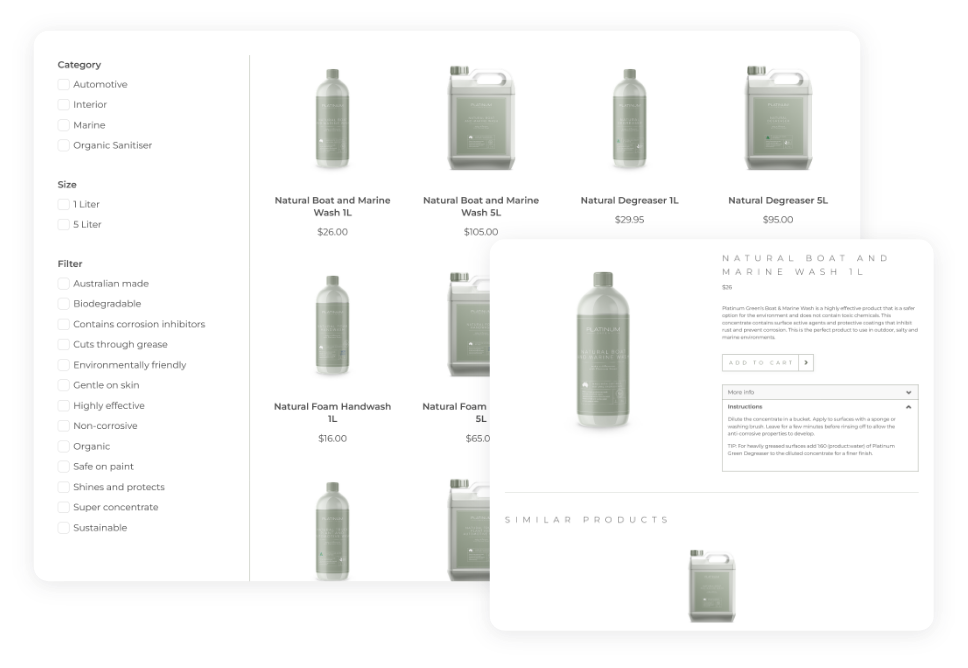 Product catalogue
The PCS is a tool to create and manage your online product catalogue. It's a user-friendly online store where visitors can find what they're looking for in minimal clicks.
Great for retail and wholesale businesses or associations, clubs and foundations wanting to sell their merchandise.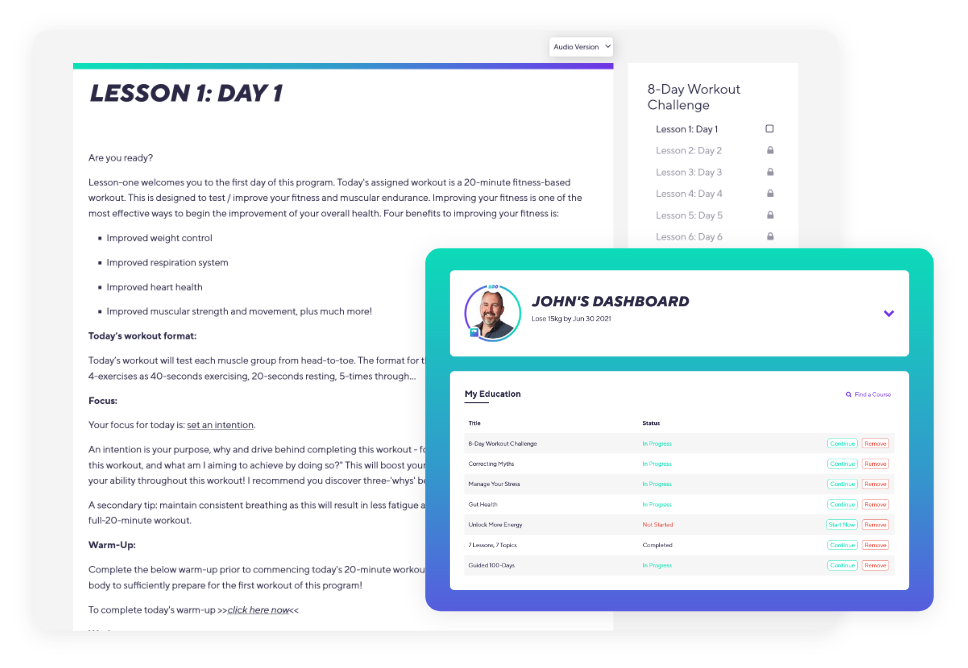 Learning management
Create online courses for your visitors to enroll and complete. Many features including unlimited courses, modules and lessons, video lessons, text with text-to-speech synthesizer, estimated completion times, blocking lessons until previous complete, tracking of where the students are up to so they can continue from where they left, and much more.
Excellent for fitness trainers, staff training, or any business that can put their training online.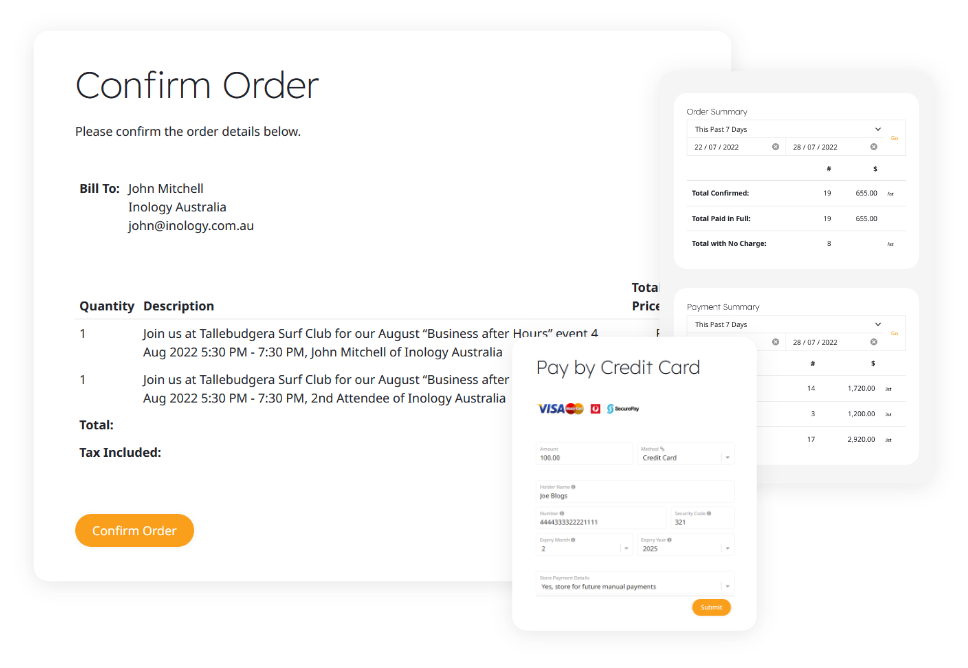 Order/payment management
Take secure online orders and payments for products, service bookings, course enrollments and membership subscriptions. Our order management system has loads of features like inventory tracking, affiliate tracking, guest checkout, promo codes, domestic and international pick-up, delivery and tax zones and much more.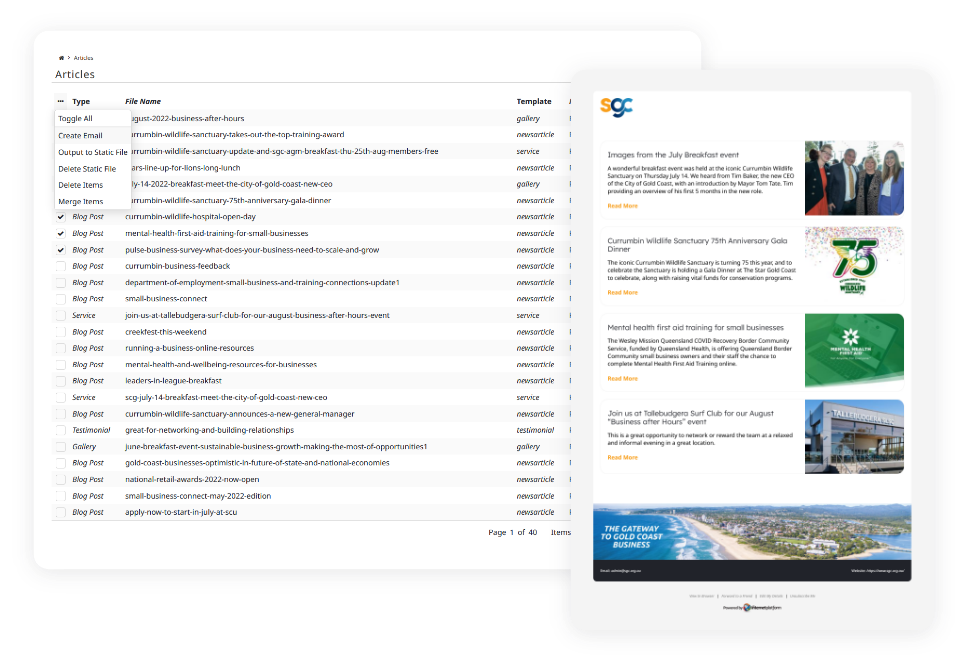 Email marketing
Build your mailing list via a subscription form, when someone purchases something on your website or import. Then, create and schedule automated email marketing campaigns to attract them back to your site to purchase a product, make a booking, subscribe for membership, or enroll in a course.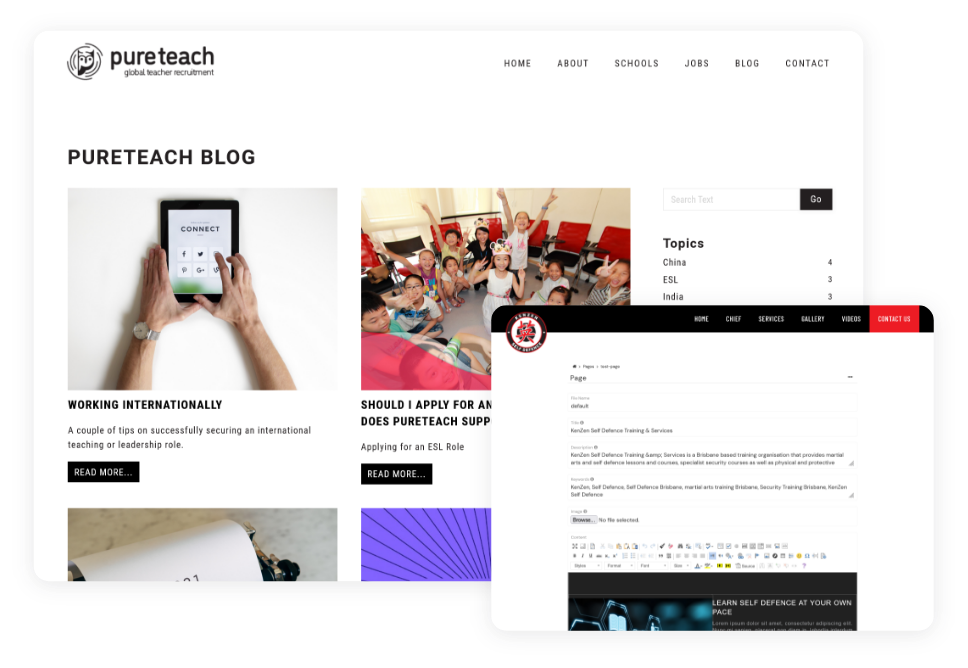 Content management
Our CMS includes a variety of features that allow you to manage and update your website without any coding. You can add new pages, blog articles, galleries, testimonials, forum topics and more.
Some of our recent projects
We produce websites that not only look beautiful but also function brilliantly too.
endED provides a space to gather and soften for those whose lives have been affected by Eating Issues.
Southport Chamber of Commerce
The Southport Chamber of Commerce exists for the local community. By ensuring a strong business environment they see that the community as a whole will prosper and develop.
Southern Gold Coast Chamber of Commerce
The Southern Gold Coast Chamber of Commerce is one of the most active Chambers on the Gold Coast - as a member ourselves it was an honour to design and build them a leading edge website integrated with a booking system for their members and guests to book into the meetings online.
Recommend highly the benefit this provides!
Southport Chamber of Commerce are extremely satisfied with both the process to change to an Inology Website, and the support provided during the set up and the training and subsequent support.

The Website itself now handles the majority of the administration for our organisation with minimal input from staff or volunteers. I can' t recommend highly enough the benefit this provides for Not for Profit organisations who want to minimise time consuming admin but still provide membership services, newsletters, events notices and payment etc.
As posted on Google
We are extremely impressed
Very professional, friendly & easy to work with. We are extremely impressed with our electrical website designed by John & his team. Highly recommend to family & friends.
As posted on Google
Nothing Was Too Hard For Them!
We would like to thank all the staff at Inology for their help and continuing support to get our website up and running from scratch. They were so professional and helpful every time I called - and that was a lot…. Nothing was too hard for them. Their advise was invaluable and has been ongoing together with recommending other professionals in this area. We have had a fantastic response to our website and can't thank them enough!