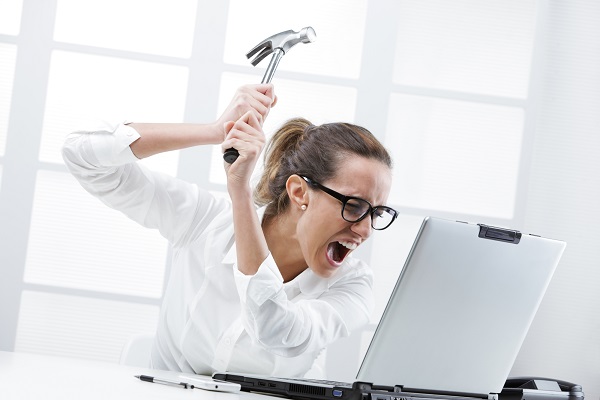 WordPress might not be the best choice for your business' website
A lot of people will tell you WordPress is the best choice to build your business website. But in this post, we'll give you 5 reasons why it might not be (and why you should consider Inology's The Internet Platform instead).
Here are 5 top reasons why (and why The Internet Platform is a better choice for your business)
Websites… a lot of business owners think they're a big headache. And it's any wonder with all the options out there on the market: different advice on which platform to use to build it, headaches with security and ongoing maintenance, prices that vary from a couple of hundred dollars to tens of thousands, and hidden ongoing costs.
If you're considering using WordPress for your business website, there are some things you need to know. Yes, a lot of people use the platform but there are some common pitfalls and problems to be aware of.
In this post, we'll give you 5 reasons that WordPress might not be the best choice… and explain why our platform (The Internet Platform) is built to help business owners like you.
1. Costs
When you're engaging a designer or developer to build your business website and they suggest WordPress, make sure you ask about ongoing costs.
The way WordPress is set up is as a framework with a range of themes (design templates) and plugins (bells and whistles) to choose from. What this means is there are a lot of options for your designer or developer to choose from. Some plugins are free, and some are paid premium plugins with annual subscriptions (depending on the plugin they can cost hundreds of dollars each every year).
So you need to find out which plugins are being used and how much they are, and make sure someone from your business is the primary contact for the renewal. We've heard stories where a plugin needs to be renewed (say, for example, a contact form to collect customer details) and the email reminder hasn't made it to the business owner. Result: plugin no longer works (in this example no potential customers could contact the business) and the business owner may be totally unaware.
Using The Internet Platform there are no hidden, ongoing costs for plugins. Everything you need is built into the system and available from the time of build. Which is great because who needs the hassle of paying extra bills and keeping on top of subscriptions for plugins just to keep their website working?
2. SEO (search engine optimisation)
There's a quote that says, "Having a business website without SEO is like putting a signpost in the middle of the desert and hoping someone finds your business". So if you want to get found on a search engine like Google, you need good SEO.
WordPress has some good SEO plugins, the best of which are usually paid (an extra cost… refer to point 1 above). And your designer or developer might tell you that WordPress is the only way to go for SEO.
But using The Internet Platform the SEO features are all built in. No need to purchase a plugin and pay for a consultant, or the training to learn how to use it. Inology works with SEO specialists to build the latest features into the core of The Internet Platform to give you the edge with SEO.
If you're looking for proof, many of The Internet Platform's clients have achieved coveted page one results on Google for their businesses using the Platform alone… with no extra plugins, consultants or extra SEO training (check out our client testimonials). Who wouldn't want to be on page 1 without the hassle?
3. Training & Support
WordPress offers a range of themes (design templates) and plugins (bells and whistles) to use when building your business website.
This may seem like a good thing, but what happens if you need to make changes to your website and the person who was trained has left your business?
The point is: each WordPress theme has different navigation, and with the buffet of plugins available, even if you hire or engage someone who is experienced using WordPress, they may not have used your particular theme or suite of plugins before.
So even if training is provided with your website handover, with the changes in WordPress' themes and plugins, you might need to spend more time and money on training to get your site updated.
Using The Internet Platform, full training is provided, with access to a catalogue of online help topics and our friendly team available to answer your questions (not an offshore call centre or waiting for a response to an email help request). Our platform's structure is integrated so there are no 'moving parts' that will change significantly, saving you time, money and hassle on training.
4. Security
WordPress is one of the most popular website building tools in the world. But this is a double-edged sword because the code used in the platform is open source, which means it's available to anyone. Result: hackers are able to find holes in WordPress' code and exploit them (and do so frequently).
There are security plugins available for WordPress, so if your website is built using these, you need to make sure that they are working, updated, and the most secure option available in the market. And make sure you ask about backups just in case things go pear-shaped. In particular: how often is a backup of your site performed and where are the backups stored?
Don't risk losing your entire site with ineffective security plugins (which could be one of those hidden ongoing annual costs) and non-existent backups. The time and money it costs to restore a hacked site causes extra headaches a business owner doesn't need… not to mention the cost of the valuable client data you've collected that you may lose.
The Internet Platform's system is private and not open source, which means hackers don't have access to it. Plus backups are done behind the scenes and stored securely off-site so there's no need for you to add backup tools or schedule reminders to do them. It's one less thing you'll have to worry about, which is what every business owner wants.
5. Maintenance & Upgrades
All the elements available in WordPress including themes and plugins require updates regularly. These are readily available from the developers and can include a WordPress system update, theme update, or plugin updates.
The problem with this is that sometimes updates between these three elements can cause conflicts. Which doesn't sound like much of a problem, but this means that the updated versions don't match which can cause elements of your site to break. One client we spoke to was unable to login to her site after doing a simple update and needed tech support to resolve it.
As a business owner, the problem is that if someone in your team is updating your WordPress software, are they checking to see that all elements of your site are still working as they should be? Because going back to our earlier example, let's say your plugin for your customer enquiry form stopped working. In effect, customers can't contact you via your site.
Using The Internet Platform, any updates are carried out by our team in the background across all elements of the platform. So you can get on with managing your business instead of checking over your whole site to make sure it's still working.
Your website is a big investment
And it's not just the money, but also your time (and your team's time) in getting the site built and working as an effective marketing tool. So before you take advice on which is the best platform to build your business website, make sure you ask these five questions before you get started and hand over your cash.
If you have any questions about The Internet Platform or would like to see a demonstration and some of our happy clients' websites, the Inology team is here to help. Give us a call to find out more about what we can do for your business on 07 5535 8942 or drop us an email at info@inology.au.
Over to you
If you liked this article please share via the social buttons below.