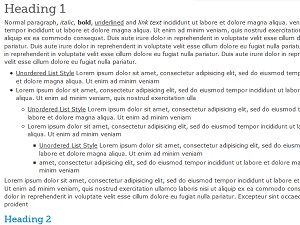 Guide to Website Content
Website content is all the written text you see on each page of a website. This information serves two main purposes. The first is to educate the user about the website they are viewing, as well as to inform then of the products and services available to them. The second purpose is to provide text and paragraphs with substantial keywords that relate to your business product or services so that search engine crawlers can look for the user keywords when crawling your website.
The more keywords you have that relate to your website, the higher the search engine will rate your site when a user does do a search.
When putting this content together consider what your potential clients may enter into search engines to find you or your services or products. These phrases or words entered into search engines are called keywords. List 10 or more keywords for each page. Give your page a title and try and include the major keyword in it. Also, give your page a brief description – no more than a couple of sentences and you should also try and include other keywords in here. Now you can write your content and include these keywords throughout it.
To help you find alternative keywords to use for your website have a look at www.keywordtracker.com, go to "free trial" and follow the steps.
Below is a list of suggested website content:
Home: The home page is all about welcoming the guest to your site and giving them an overview of the site content.

Welcome: A welcome to our site statement.
Philosophy: With a "click here" to find out more about our company.
Overview of Services/Products: A brief on each (or the major ones) with links to the services page. If most of the guests are coming to your site for one service or product in particular you should make this the prominent piece of information on your site with links to further information. This will make your site more user-friendly as you don't wish to upset potential clients.
Support: a statement of support with link to support page.
Latest News: Headlines with link to news page.
A Notable Award: Graphic with link to awards page.
Portfolio: A glimpse at one of your works with links to the portfolio page.
Testimonial: A client testimonial with link to testimonial page.
About Us: The about us page should tell the guest all about your company.

Philosophy: Your company philosophy.
Mission: Your Company's mission statement.
Goals and Objectives: Company's goals and objectives.
Plans: Your future plans if you wish to divulge.
Background: How your company got to where it is today.
Our Alliances: A brief on each association, partner, supplier, etc. with their logo and a link to their website (ask them for link back to your website in return – this will improve search engine ranking for both parties).
Our Clients: A brief on each client with their logo and a link to their website (also ask them for a link back to your website).
Our Staff: A brief on each staff member and what they do and maybe their photo. Alternatively, instead of naming each staff member you may choose to give a brief on the types of jobs in your company.
Job Opportunities: list the positions available with job descriptions together with an application form.

Services/Products: List each service or product giving details about each including a photo. If your company has many services or products then you may wish to categorise them and list the categories with a brief description and links to other pages of the services or products in that category.

Online Ordering System: you may wish to implement an online ordering system which will allow the guest to place an order and pay for it online. The details of the order may be sent to your company via email or stored in the online database for you to follow up.
Request for Service Form: Alternatively you could have a form that the guest could fill in requesting your service. Once the guest submits the form the details would be sent to your company via email.

Support: If you offer support on your services and products then here are some suggestions.

Guides: help guides or user manuals on your services and products.
Handy Hints / Tips & Tricks: Any handy hints on related issues.
FAQs: Frequently asked questions with their answers.
Glossary: Of terms from other parts of the site – link from terms in other parts of site to term description in here).
Downloads: brief description of each download item and link to that item.
Links: List of helpful sites with brief description and link to that site. Include site logo where possible.
Newsletters: Each month/quarter put out a newsletter with news, new services, helpful hints, upgrade info, etc.

Sign Up: a form allowing a guest to sign up for the newsletter
Archive: an archive of previous newsletters

Tickets: a place where a client can lodge a support ticket requesting help.
Live Chat: a place where a client can ask question and get an immediate response.

Portfolio: List of jobs with description of the work performed, the client and how the job met their needs. Include testimonial with link to testimonial page. Also include link to the client's website (if applicable) and request from the client to link back to your site.
Awards: A list of awards with descriptions of the award and the association that awarded it. Link to the association's website and request them to link back to your site. Include graphics of the award where possible.
Testimonials: A list of testimonials and who they are from. Where possible link to the client's website and ask them to include your link on their site.
News: News headlines and articles
Contact Us:

Phone
Fax
Email
Postal Address
Office Address: With map and description on how to get there.
Request for Information: A form that can be filled in by the guest and when submitted the details are sent to your company.
Other Articles
More frequently, websites are using articles that relate to their products and services in order to have additional website content. Although there are many websites that will supply you free articles to use, you cannot change any part of the article what so ever, and you have to leave the attached links that will direct your user to other websites. If you are able to, you should write your own articles, suggestions for theses are included in the list below.